Here is a list of some of the ongoing projects, sorted out in 5 categories:
The theremin sounds fantastic in chamber music ensembles. With piano and cello, or clarinet, or vibraphone… A nice concert repertoire is available.
With pianist Laurent Beeckmans, we created "the Alba Septet" in 2017. Bohuslav Martinů's "Fantasia for theremin, oboe, piano and string quartet" is of course the principal work we had in mind for this ensemble.
Listening links:
Etude in B-flat minor (Szymanowski) – theremin and glass harp.
La Vallée des Cloches (Ravel) — theremin, piano and vibraphone.
Concerto pour Soprano Coloratura (Glière) — theremin, piano and clarinet.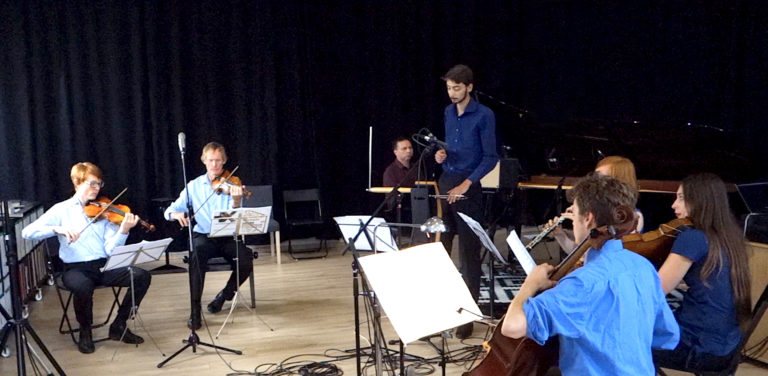 With its very own tone color and expressivity, the theremin sounds wonderfully in a symphonic context. Some original works have been written specifically for theremin and orchestra – mostly film soundtracks ( Spellbound, Ed Wood, etc.),  20th century works Fuleihan's concerto, Schillinger's "first airphonic piece", etc.) and more contemporary pieces.
This duet has been inspired by the Oraison composed by Olivier Messiaen first written for Ondes Martenot sextet in 1937. The composer himself transcribed it for cello and piano later as the second movement of his Quartet For The End Of Time. This long meditative melody is transcended by the rich timbre combination offered by the unusual theremin and organ duet.
A full concert programme is available, with baroque transcriptions and contemporary works alongside the Oraison. Several projects are in progress with the organists Gabit Nessipbaïev, Muriel Groz and Quentin du Verdier.
A full concert programme for theremin, 2 violas, cello and piano composed by the brillant Canadian composer Aleks Schürmer. Flautist and multi-instrumentalist specialized in baroque music, Schürmer's music is intriguing, inspired by the 20th century with a subtle baroque touch and very unstable harmonies.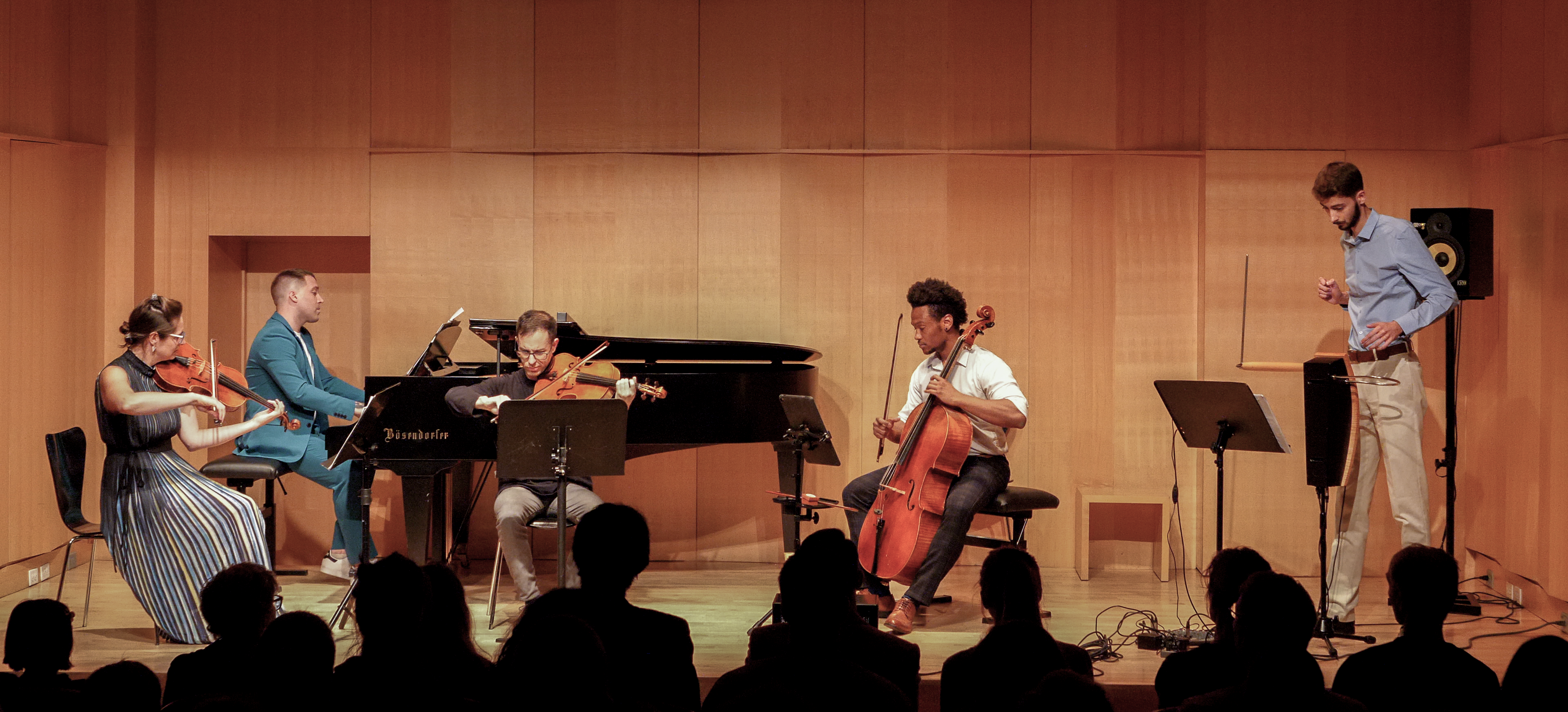 The theremin is the musical red wire of an ever-changing project initiated by the multifaceted Diederik Peeters. Something inbetween contemporary theater-play and performance.
Here is a picture displaying the incredible sonic installation created for a radiophonic play, in 2018, in Rennes, France.
There is so much to tell ! The amazing life of Lev Sergueïevitch Termen, the history of electronic music, etc. It's always a great pleasure for me to share my passion for these subjects with all kind of audiences (schools, universities, everyone…)
To discover the theremin, there are several possibilities among which the theremin academies organised by Thierry Frenkel, Dorit Chrysler's "école de thérémin" and workshops coming along with some concerts. The picture attached here was taken during a theremin workshop in Montréal on August 23rd, 2019.
Aside from these group events, you can still contact me for individual lessons.
Taking part into projects for the film industry, from short-films to bigger productions.